February 14th, 2013
Oh my, poets, it is a busy time. I've got Ontario shows coming up in February/March with my pal Jenny Ritter, and it's time for that enormous monster of the business-side-of-all-this-fun called Folk Alliance to rear its unstoppable head. I'll spend a week in a hotel with a thousand other hungry musicians and some very busy industry folk, and I can't wait. If you happen to be there, and you're looking for me, you can find me here: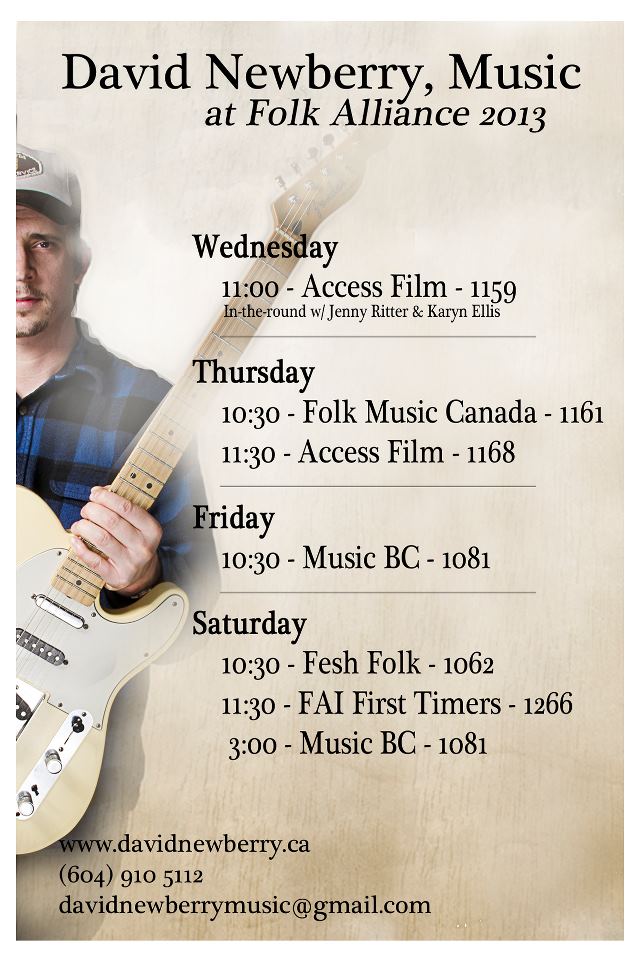 ---
November 7th, 2012
Dear Poets,
It rains here, eh?
It's been a quiet few months. I've moved. A few streets over. A few less carpets. A few new songs. Change is in the wind. Everything is new. I can see it in your eyes.
Mountains of local shows have taken place with new comrades like Declan O'Donovan, Daniel Moir, Hannah Epperson, and the lovely and talented folks inRococode. There's a couple of other exiting moments coming up too. Keep yourself posted in the shows section or  by signing up for my newsletter below.
Of special note would be a night at the Pacific Theatre with my dear talented friend David Simard and Montreal-based Brie Neilson on November 27th. I'm very lucky and very excited to be sharing an evening with two of my favourite singers. I'll be performing that night backed by the super-talented Adam Iredale-Gray (who produced my most recent record, and who plays fiddle with Fish and Bird). It will mark the launch of a mini-tour Adam and I are engaging in, which involves (mostly) house concerts. We'll be riding boats to Gabriola Island, Hornby Island, Denman Island, a house near Duncan, and possibly Victoria (details TBA on that one). Details (you guessed it), are in the shows section.
Not much else to report. It's festival application season, which means if you would like me to come to your town, I would be ever so grateful if you'd write your local festival and let them know you'd like to see us on the bill. Their contact info is always on their lovely website.
Here's a snippit from my recent opening slot at Jenny Ritter's CD Release party in Victoria. If you click through to YouTube, you'll note that Midnight Oil's "Beds Are Burning" is the video YouTube suggests you watch after you finish mine. Go figure.
Good night, poets. Get some sleep.
You can stream and purchase my records on Bandcamp or on iTunes. The uptight critics who really run the show are digging it, and so should you.
Par example:
CBC Music says that "Newberry doesn't sacrifice lyrical creativity even when he's making noisy, guitar-driven tunes…" and jokes that "rumour has it that if you hold an English Bay seashell to your ear, you can faintly make out the sounds of his roving music."
Exclaim! Magazine thinks that: "Newberry can be filed alongside the likes of young troubadours like Jerry Leger and Corin Raymond as evidence that Canadian roots music is in good hands."
No Depression kindly set aside their only-banjos approach to roots music and suggested that: "While other singer-songwriters talk about their storytelling skills and their ability to draw you into a song, Canadian singer David Newberry delivers. His new album "No One Will Remember You" is packed with beautifully crafted songs, the kind of music that has to be made by hand with great care. Coupled with his beautiful voice, you have quite the package…  His songs are gently sad, almost wistful, possibly exhausted: really the only emotions we have anymore in a world on the brink…. a refreshingly ego-less perspective that's unfortunately very rare."
Alan Cross (yeah) says that Newberry has "equal parts 'The River' era Springsteen and Neil Young folk rock elements in his music," and say's we've made a "Soulful, really impressive sophomore album." That's pretty cool, right?
Megaphone Magazine observes that "Newberry's style and sound straddle both folk and rock, and the album can feel both light and dark, somber and uplifting at the same time."
Roots Music Canada says the record is full of "Songs. Real songs, together with a sound that's strong enough to set him apart from more everyday singer-songwriters."
ThoseWhoDig say: "Ripe with nostalgia, infectious melodies, and a comfortable feeling of song familiarity Dave Newberry's new release is a must have."
Victoria's Martlet says: "Alive with bright pedal steel and a sort of critical Canadiana, the album is flushed with sentimentality for Newberry's home country as well as a frustration with its many ailments… Lyrical craftsmanship of a consistent calibre is the heart of this album."
Vancouver Weekly graciously states that: "Newberry's cheekily-titled sophomore effort, released through Vancouver's Northern Electric label and produced by Adam Iredale (of Fish and Bird), amplifies the momentum created by his 2010 solo debut, When We Learn The Things We Need To Learn."
I am out on the road as often as I can be right now promoting this album. Find all the info in the shows section.
In the mean time, sign up to the email list below and I will keep you tastefully informed of my thoughts and concerts. Come home to me.