May 1st, 2013
Dear Poets,
When spring rolled around yet again, and I was just about to get a year older (yet again), I thought to myself: Get with it, Newberry. All the kids have video content on the YouTube. Be relevant. Feel small, but be relevant. And so I tried to solve it. I've been working with a handful of directors and videographers to get content out into the world for a few months now, and the finished products have started to trickle in.
So, poets, here is some real live content. First up, a brand new song. The title track from my forthcoming EP "Desire Lines." Have a peak.
Here is a video that my beautiful friend Meghan Morrison (of Online Indie Jams) shot at Folk Alliance International back in March, when I was playing with my fiddle army. There's lots more coming, so keep your eyes pointed here, over on my Facebook fan page, or at my twitter account. Or you can sign up for the email list below.
Feel free to comment or share the video if you like it.
And here's a fun fact: Someone kindly covered one of my songs into the camera of their iPod and posted it on the internet. I'm not 100% sure, but I believe this to be a first.
Good day, poets. I wish you all of the luck in love.
dn
---
April 12th, 2013
Goodness Poets,
Life is magic, isn't it. I have so many things to be excited for these days, and I will tell you all about as soon and as often as I can. In the mean time, there's two things to know that are of the urgent variety, relating, in their shortest-form: to policy and to shows.
First, poets, let's talk policy. Let it be decreed that:
Any person who is standing for or currently holding public office can attend any David Newberry show for free, provided they are willing to be publicly identified and make themselves available for conversation. Forever and for always.
If you're one of these people, here's the deal: 1) You don't get to touch my microphone, and 2) You have to email me the day before the show at davidnewberrymusic@gmail.com, and I will either put you on the guestlist, or buy you a ticket.
I can't wait to see you there.
Next, well, next is this: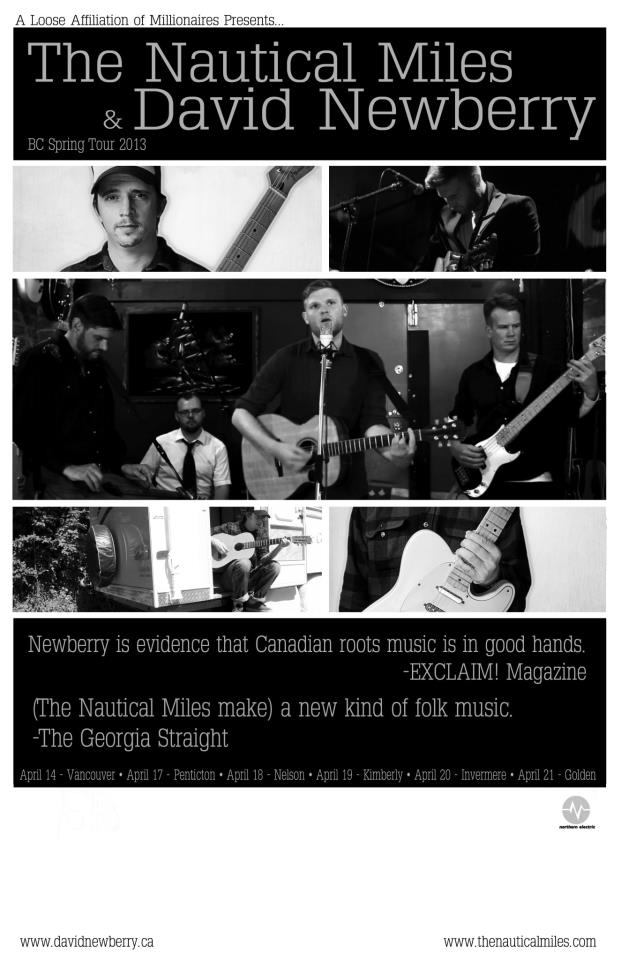 Yes, sirs and ma'ams, In the coming days, From April 14th to 21st, I'll be Vancouver, Penticton, Nelson, Kimberly, Invermere, and Golden, BC. And that's not all. I'll be visiting these towns with my favourite band in Vancouver, The Nautical Miles. And that's not all. The hands-down-incredible musicians behind 'The Nauts' will also be behind me. Boy oh boy. Little old me. Being backed up by The Nautical Miles. I don't really know what a bucket list is, but I'm pretty sure mine just got shorter.
Find out all about it in the shows section, and sign up to my email list, which you can do below.
Thank you, poets, for being such good enablers.
---
You can stream and purchase my records on Bandcamp or on iTunes. The uptight critics who really run the show are digging it, and so should you.
Par example:
CBC Music says that "Newberry doesn't sacrifice lyrical creativity even when he's making noisy, guitar-driven tunes…" and jokes that "rumour has it that if you hold an English Bay seashell to your ear, you can faintly make out the sounds of his roving music."
Exclaim! Magazine thinks that: "Newberry can be filed alongside the likes of young troubadours like Jerry Leger and Corin Raymond as evidence that Canadian roots music is in good hands."
No Depression kindly set aside their only-banjos approach to roots music and suggested that: "While other singer-songwriters talk about their storytelling skills and their ability to draw you into a song, Canadian singer David Newberry delivers. His new album "No One Will Remember You" is packed with beautifully crafted songs, the kind of music that has to be made by hand with great care. Coupled with his beautiful voice, you have quite the package…  His songs are gently sad, almost wistful, possibly exhausted: really the only emotions we have anymore in a world on the brink…. a refreshingly ego-less perspective that's unfortunately very rare."
Alan Cross (yeah) says that Newberry has "equal parts 'The River' era Springsteen and Neil Young folk rock elements in his music," and say's we've made a "Soulful, really impressive sophomore album." That's pretty cool, right?
I am out on the road more and more every week. Find all the info in the shows section.
In the mean time, poets, sign up for the Newberry newsletter to remain tastefully informed about all things Newberry. Let's come home together.